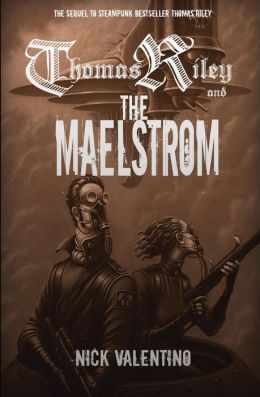 Day one of the massive Thomas Riley and The Maelstrom Blog tour!
The day has finally arrived! My second steampunk adventure novel, Thomas Riley and The Maelstrom (published by ZOVA Books) is available! It's been a very long road but worth every second as I feel like this book is the perfect sequel to book one. It's a much darker story and the reader gets immersed into the characters neurosis that fuel their unique desires.
Centered around a massive airship that can control the weather in nefarious ways, Thomas Riley and The Maelstrom has taken the original story to a new level of action and peril that I'm most proud of.
Before I go on, tomorrow's blog tour stop is an interview at
Book In The Bag
so be sure to check it out.
Also, if you'd like to get the new re-edited reissue of book 1, Thomas Riley click here:
http://www.amazon.com/Thomas-Riley-1-Nick-Valentino/dp/0615790283/ref=sr_1_29?s=books&ie=UTF8&qid=1372211444&sr=1-29&keywords=Thomas+Riley
How do you get a copy? There are a lot of different ways depending on your favored delivery method. Note that for signed copies, be sure and let me know how you'd like the book signed in the note to seller section right before you submit payment. Another cool thing is that the book is on sale everywhere! So you'll get discounts everywhere you order.
Get signed copies here:
Amazon.com Paperback $14.39:
Kindle $2.99:
Barnes & Noble Paperback:
FROM THE BACK COVER

Thomas Riley and Cynthia Basset's adventures in their steampunk world have turned down a dark path. After an assassination attempt, the West Canvian heroes receive a message from a mysterious woman about the whereabouts of Cynthia's missing suitor and famous sky pirate, Sam Burges.

Cynthia insists on pursuing the lead despite great risk, so the two of them take off with a rogue colonial sky pirate and his eclectic crew to find the man that she loves. On their journey, Thomas and Cynthia learn that Sam has joined with their enemies, the Lemurians, under the supervision of the mad man, Doctor Wolfgang Gerhard.

To make matters worse, Sam is in a commanding position on board the secret airship, The Maelstrom, that has the ability to control the weather in a most nefarious way.

Thomas and Cynthia's loyalty to their country and to each other are laid on the line in this steampunk tale of love, loss and adventure.
PRAISE FOR THOMAS RILEY AND THE MAELSTROM
"Valentino does it again with a Thomas Riley story packed with high-stakes action, full of fantastical figments of science, and incredible description guaranteed to transport you on a grand adventure. An epic tale you won't want to miss."
Theresa Meyers, award-winning author of The Legend Chronicles series
"Nick Valentino takes us back into the steampunk world in this second Thomas Riley book, giving us more Riley, his friends, and enemies in an action
and intrigue packed volume that starts with a bang and hurtles toward an unforgettable conclusion. A definite must-read for steampunk and action fans!"
H. David Blalock, author of Angelkiller
"It's another adventurous journey for Thomas Riley and Cynthia Basset as they confront perils from new adversaries, new weapons, and new mysteries. Assassinations, captivity, and several races against time keep the duo charging forward from battle to battle and airship to airship. A captivating and creative story for readers of all ages!"
Kevin Steil, Airship Ambassador
"Thomas Riley and the Maelstrom picks up where the last left off, with the danger escalated, action raised, and tone matured. It's a must read for any fan of steampunk fiction."
Doctor Q