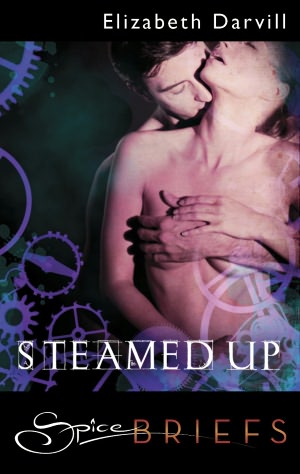 Today is the day that Elizabeth Darvill's steampunk erotica book,
Steamed Up
, comes out from Harlequin Spice Briefs! It's part two of a the
Lust in a Time of Steam
series featuring her first book,
Steam Heat
which came out a year ago. What a great day all around. One year ago today I also asked her to marry me on the steps of The Parthenon in Nashville, TN. I'm a happy boy.
You can get Elizabeth's book on Amazon for your Kindle and guess what? You can get it in audio form as well!! How cool is that? Personally, I'm dying to hear it. I'm super curious about who is reading it an what it sounds like... Pretty naughty stuff to hear. :)
So go forth, buy the digital version for a mere $2.99 and the audio version is only $2.58!
Here's the blurb:
In a world of steam runners, demons and soul stealers, seduction is her greatest weapon….
Half-succubus Angel has found her perfect match with Ian, the man with the other half of her soul. He gives her love and the erotic pleasure she needs to survive, though they also enjoy ménages with her frequent paramour, Jezebel.
But when her friend betrays them, Angel may lose everything she holds dear. She'll do anything—and anyone—to save Ian, including join forces with a dangerous former lover….
Buy Steamed Up for your Kindle here.
Buy the Steamed Up audio version here.
Buy Steamed Up for your Nook here.
Also, be sure to keep an eye on Elizabeth's Facebook page as she will be doing some really cool contests for reviews and such. Like her page here.