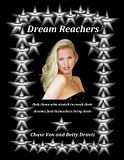 Honestly this was kind of a shock to me. I did an interview a while back for the Student Operated Press with a fine gentleman,
Chase Von
, Author of "Your Chance to Hear The Last Panther Speak". Chase has been behind me since day one and I have a lot of respect and love for the guy.
The interview was done on November 28th, 2007 so this was way before I was writing Thomas Riley. The interview focuses on Fallon and the horror series that I've been constantly working on. The best part is that my interview is now in a book called "
Dream Reachers
" - Only those that stretch to reach their dreams find themselves living them. (By Chase Von and
Betty Dravis
)
I would have never thought that my interview would be in the same book with the likes of Clint Eastwood, Ted Kennedy, Tanya Tucker, and a host of other well known celebrities. Really, I'm blown away. (My interview is on page 354.) So definitely add this to my list of upcoming reviews.
With that said, take a look and pick up your copy at
Amazon.com